by Rosie Colahan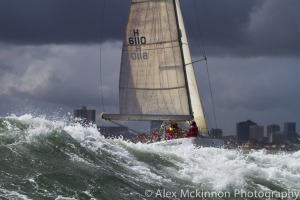 Samskara doing some ocean grading – it needed it!!!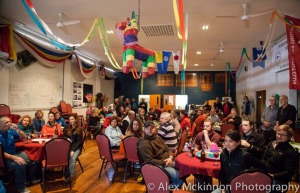 Who's going to smash the piñata?
Following the abandonment of Race Day 4 of the Port Phillip Women's Championship Series on Sunday 19 April, host club Hobson's Bay Yacht Club (HBYC) has announced the resail of the scheduled Shirley Freeman and Senorita Cup trophy races on Sunday 17 May commencing at 1400hrs.
The scheduled racing for Sunday 19 April attracted 20 entries for the Shirley Freeman trophy and ten entries for the newly established Senorita Cup. On the day, challenging unpleasant weather with winds to 35 knots at Fawkner Beacon and seas to 2 metres prevailed. The system then intensified in the Tasman forming a vicious East Coast Low which went on to lash the NSW coast.
HBYC initially postponed racing but soon after signalled an abandonment - which was read by the competitors as an early start to the Mexican fiesta ashore! Great to see so many of the crews from participating clubs filling the HBYC clubhouse for a fabulous luncheon. It is not often in a racing event that you get to hold the party first and the racing later.
Now for Take Two. All details are available on the HBYC website
A presentation will be after the race back at Hobbo's around 1600hrs. This time there will be a Soup Kitchen with choice of soups with bread roll / garlic bread for $5 per head to warm everyone up. It may not be possible for the 'away entries' from further afield to attend but any trophies not collected will be presented at forthcoming PPWCS events.
Thank you to HBYC Race management for finding a spot so late in the season for a resail and for their continued support for women's sailing.