Areeba! for Port Phillip Women's Championship Series Race 4
by Rosie Colahan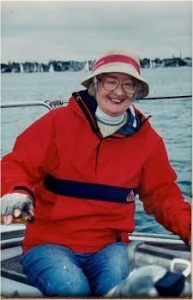 Shirley Freeman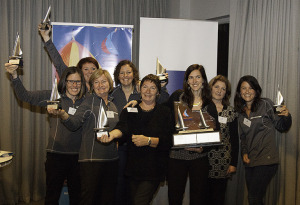 The victorious HBYC girls scoop the pool at PPWCS 2014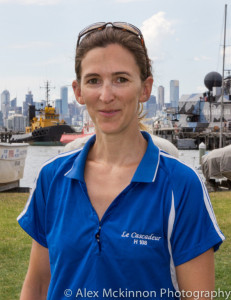 Leo Eeckman and her new home – Melbourne.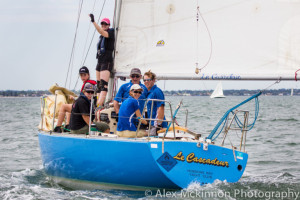 Dangerous when wet indeed!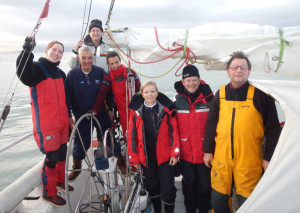 Escapade M2V crew
Race 4 of the Port Phillip Women's Championship Series (PPWCS) is fast approaching with the Shirley Freeman Trophy Race being hosted by Hobson's Bay Yacht Club (HBYC) on Sunday 19 April 2015 commencing 1100hrs. This year sees an exciting expansion of their Lady Skipper's program with the establishment of an additional Non-Spinnaker race, the Senorita Cup to encourage the less experienced Lady Skippers to take the helm in a race with a less competitive format. All topped off with an after-race wrap with a Mexican Fiesta - Areeba!
The Shirley Freeman Trophy Race is named in honour of the first female senior member of a keelboat club in Victoria. Shirley was welcomed to HBYC in 1974 by Commodore Bob Fell whose initiative predated the Victorian Equal Opportunity Act of 1977 which opened the door to females to join clubs as full members. From her first foray in a rather wet and unwieldy OTB catamaran in 1972, Shirley purchased her own keelboats and progressed from bay sailing to racing, winning the 1991 Port Phillip Sea Pilots Race and later skippering her own boat in the Melbourne to Devonport Race. She was also a member of the Victorian Yachting Council (VYC) involved in Training and Women's Sailing. In her professional life, Dr. Shirley E Freeman was awarded AM (Member of the Order of Australia) in June 1989 in recognition of public service.
In 1996, HBYC named a new rescue boat 'The Shirley Freeman' in her honour to recognize her many achievements in the sport. 'By her example and support, Shirley has been instrumental in making the sport of sailing accessible to the broad community'.
Shirley passed away in December 2014, but her spirit and her legacy lives strong at HBYC with the club being very active and successful in developing the skills of their female racing sailors in recent years. The establishment of the HBYC Women on Water (WOW) training program in the 2012-13 season, with support from male boat owners and mentors, along with the purchase by the club of the S80 Satie as a training boat has certainly spring boarded their female sailors to the front of the race results around Port Phillip. PPWCS 2014 saw Julianne Gibson and Maureen Dickins share the helm on Satie placing second in PHS and third in AMS with Kate Ribton-Turner on The Bookmaker taking out second in IRC. Crowning honours with first place in AMS and PHS divisions went to Leo Eeckman at the helm of Le Cascadeur, who is currently defending her titles and leading PPWCS 2015 again in both divisions.
And no doubt Shirley would be smiling to know that her club has added the Senorita Cup to their women's sailing activities, to attract and engage more female sailors in a less demanding race environment - separate start line and shorter course - to make sure that the broader sailing community were included.
So come and join in this 'Fiesta of Sail' followed by a Mexican Fiesta lunch and presentation. The (temporary) absence of a clubhouse has not dampened their spirits at HBYC and free mexican food will be served from their 'pop-up Canteen- A' to be washed down with a little Sangria or Tequila available at bar prices.
There will also be a raffle to raise money for humanitarian aid to the people of Vanuatu in the wake of the severe damage suffered to their island communities by Cyclone Pam. Several members of HBYC have participated in Melbourne to Vanuatu yacht races in recent years and are well aware of their plight and gratitude for assistance in rebuilding their communities. Please dig deep and support this initiative.
Rally your crews together now and get your entry in for another great day of racing at the top of the bay.
Further information - This link will take you to the HBYC website where you can find; NOR, Sailing Instructions and Entry.
To go to the Women and Girls in Sailing Website Click here